Pure magic, the New Age Sansula is a delight to play. Perhaps the most beautiful sounding kalimba, and with nine notes it is not so complex. This is a great instrument to add to any bodyworkers tool kit, or relax and enjoy. Close a sound healing circle, send children to dreamland, soothe the restless mind. The Sansula is a wonderful companion and comes with a quality travel bag.
This class covers Basics on How to Play the Sansula for Sound Healing. You can use this with children, patients or clients, or sound circles. The Sansula can be played on or off the body.
How to Play the Sansula for Sound Healing
Whether you are sweeping the room with angel wing tones, or using the wah wah effect on your client's back or wafting tones over the baby bump, the Sansoula is an amazing addition to the sound circle family of instruments. Take time to get to know how to take care of your Sansoula, and how to maximize your joy of playing with this delightful artpeice of a a sound healing instrument. A hybrid of african, german and japanese craftsmanship and design, the Sansoula finds a home solo, or a finishing act, or an opening prayer, or a jam session with other instruments. We explore all this with this 3 hour class on Sansoula for Sound Circles.
This class requires the purchase of a Sansula. You can order the Sansula Renassaince from our online shop. Please plan 1 week for shipping within USA. You can use this link to order; https://www.hawaiihealingsoundschool.com/product-category/kalimba-sansula-renaissance-with-bag/sansoula-travel-bag/
IN THIS CLASS:
You will learn the basic notes and layout of the Sansula keys
How to get excellent sounds with various parts of the Sansula, Kalimba keys, percussion head, resonance effects
How to use the Sansula on and off the body.
How to use the Sansula for energizing or blessing a space, or room.
How to feel comfortable jamming with other instruments
Foundations that guide to how to move forward with learnng more about the Sansula, optional and alternative tunings, shamanic uses.
If you are taking this on-line class before September 30 2020, you may save 20% by using the coupon code HHSS20 at the check out. The Sansula price includes the travel bag.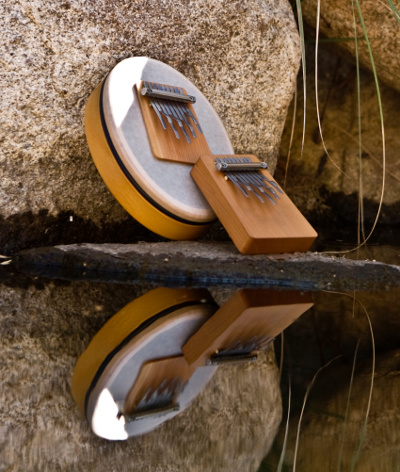 The Hokema Sansula
The Sansula is one of the most beautiful sounding kalimbas on the planet. It represents a confluence of superfine German engineered kalimba tines and metal pieces, a wonderful tuning and note layout that make it very easy to play, and the rich deep "wah wah" sound that is easily made with its frame drum. As such, the Sansula has very broad appeal – musical novices and inexperienced kalimba players can have great fun with the Sansula, but it can also hold the interest of experienced players, especially when one considers the alternative tunings, which are not quite as easy to make wonderful music on, but are significantly more capable. In addition, there are great books available for standard Sansula tuning as well as two alternative tunings – books that are worthy of these amazing instruments. The Sansula can be a very rewarding instrument to explore.
Do you want the biggest, deepest kalimba affect in the world, with an instrument that almost plays itself? The Sansula may be your instrument.
This is a truly delicate sounding instrument. Imagine going into a secret room that nobody but you knows about, a place where your soul can be renewed as you surround your mind and heart with mystical beauty. That's what playing this instrument feels like!
The coolest thing about the Sansula is the way it produces the "wah wah" sound. On the Hugh Tracey kalimba, the wah is produced by covering and uncovering the sound holes to change the resonant frequency of the sound box. The Sansula is mounted on the head of a small drum which serves as the resonant cavity, and the resonance is altered when you hold it firmly against a flat surface or if you tilt it off of that surface. (Please don't beat on the drum, as this instrument is very delicate and will break if you misuse it.) So, you get the wah-wah effect by lifting it up and putting it back down on a table, or a board or book on your lap.
The Sansula's standard tuning is an A minor chord, with a few other notes thrown in. This tuning is a double-edge sword – you will not be able to play any songs you might think of playing on it, but on the other hand, EVERYTHING you play will have a unique mystical and haunting beauty, whether you know anything about music or not.
Listen to these sound clips: